In the 1931 movie Frankenstein, angry villagers armed with torches descended on the creature (in the movie, the creature was never actually referred to as 'Frankenstein'), cornering it in a windmill and burning the structure to the ground. What does this have to do with the Nike logo? Nothing. Except that most designers and creative professionals are just as likely to march, pitchfork and torch in hand, against anyone who dares to criticize the Nike 'swoosh' in any form or fashion. It is with this acknowledgment, and with great risk to my personal wellbeing that I accept the tremendous risk of writing this article.
The Nike swoosh is one of the most recognizable logos in the world and, for many in the creative industries, is the benchmark by which just about all other logos are judged. And for good reason. The Nike logo checks off just about all of the characteristics of good logo design. It is simple, easy to recognize, unique, scalable and in character with the overall Nike brand. So iconic is the Nike logo that it is consistently featured in lists of the world's best logos. The Nike swoosh claims the top spot in Complex.com's list of The 50 Most Iconic Brand Logos of All Time. And in research conducted by Seigel + Gale, Nike was found to be the most recognizable logo in the US and UK.
The Nike logo was created by Carolyn Davidson, a graphic design student at Portland State University. Phil Knight, the co-founder of Nike, approached Davidson in 1971 and commissioned her to create a logo for his fledgling shoe company which was named after the winged Greek goddess of victory. Davidson went straight to work designing a logo which could help the company's products stand out in the market and which would be consistent with the company's name and its focus on athletic victory. Davidson's swoosh design effortlessly embodies the characteristics of movement and speed, and also resembles a wing in flight, a nod to the winged Greek goddess after which the company was named. And the rest, as they say, is history.
Many observers believe that much of Nike's success over the years can be credited to the company's distinct logo which is emblazoned on the company products, which includes shoes (duh), sportswear and apparel. But, even though the Nike mark may be partly responsible for the company's success, there is still nothing magical about the logo. But before you light your torches and dig up the ol' pitchfork, take a moment to consider exactly how Nike rose to become one of the world's most valuable brands.
Brand dominance
Nike's mission statement is "To bring inspiration and innovation to every athlete in the world." Considering that Nike believes that "If you have a body, you are an athlete", Nike's mandate extends to just about everyone on the planet who has a pulse.
Anyone who is familiar with the Nike brand, its story and its rise to market dominance understands that Nike's mission statement just doesn't live on a plaque on its walls. It is part of the company's DNA. Unsurprisingly, considering that the company is named after the Greek goddess of victory, the Nike brand is all about victory, athletic dominance and crushing the competition. This obsession with athletic dominance starts at the company's headquarters.
Nike's headquarters in Oregon is part office complex, part shrine to athletic dominance. Its buildings are named after dominant athletes such as Michael Jordan, Mia Hamm, Tiger Woods, Bo Jackson and runner Steve Prefontaine, Nike's first signed athlete. The campus also has plaques dedicated to the likes of New York Mets legend Dwight Gooden and banners that tell the story of other notable athletes. With such a strong celebration of athletic dominance at its headquarters, it is easy to see how the Nike philosophy of dominance effortlessly extends throughout the company's business network, permeating through its business strategy, advertising campaigns and front-line interactions with customers.
Product Innovation 
Nike has gained a well-deserved reputation for developing high-quality products that can help its customers achieve athletic dominance. The company has invested heavily in innovations and patents that help its customers perform better and achieve victory.
Take, for instance, Nike Therma-Fit, a microfiber fleece that Nike includes in a line of sweatshirts, fleece jackets, gloves and sleeves. The fabric retains energy and resists heat loss, and is designed to help athletes retain their core body temperatures so that, 'when temperatures drop, workouts don't have to'. Here's another example. Nike Zoom is a lightweight, versatile and durable cushioning that Nike includes in its shoes to help athletes protect against fatigue, stress and damage to the wearers' feet. According to Nike, as wearers' feet strike the ground, Nike Zoom's air cushioning absorbs the impact forces and protects muscles, joints and tendons. The result is a product that helps protect athletes against fatigue and stress.
Nike even has a product (Nike's Storm-Fit) that is designed to keep athletes dry in stormy conditions. Storm-Fit is designed specifically for 'the serious athlete' who may compete in wet, cold, and windy conditions. The waterproof fabric is included in Nike Golf jackets, pants and hats.
But Nike's innovation doesn't end with its fabrics. The company has also diversified from shoe wear to software, with an app that help athletes track their performance and progress. Using the app, users can compete with friends and fellow runners around the world, and receive personalized coaching to help them improve their individual performance.
These are just a few of the innovations that has helped Nike power its way into consumers' wallets, wardrobes and athletic lifestyles. Nike has over 5,000 patents in its arsenal, with more on the way. In fact, according to some reports, Nike has more patents under its belt than companies such as Lockheed, Ford and Pfizer.
Brand positioning
A large part of Nike's allure with consumers are its brand ambassadors who are paid handsomely for endorsing the brand and wearing the company's products. Nike's first paid brand ambassador was Steve Prefontaine, the Oregon track star who helped popularize Nike's running shoes. Since then, Nike has had a strong track record (get it? Track record?) of signing on leading athletes to become paid brand ambassadors.
Over the years, Nike has signed multi-million-dollar deals with the likes of Michael Jordan, Tiger Woods, Roger Federer, LeBron James, Cristiano Ronaldo, Rafael Nadal, Kobe Bryant, Maria Sharapova, Michelle Wie, Serena Williams, Peyton Manning, Shelly-Ann Fraser-Pryce and other athletes who dominate their respective sports.
Nike's strong association with these athletic champions has helped position the brand in the minds of consumers as a company that embodies the spirit of competition and, more importantly, associates the brand with dominance and victory.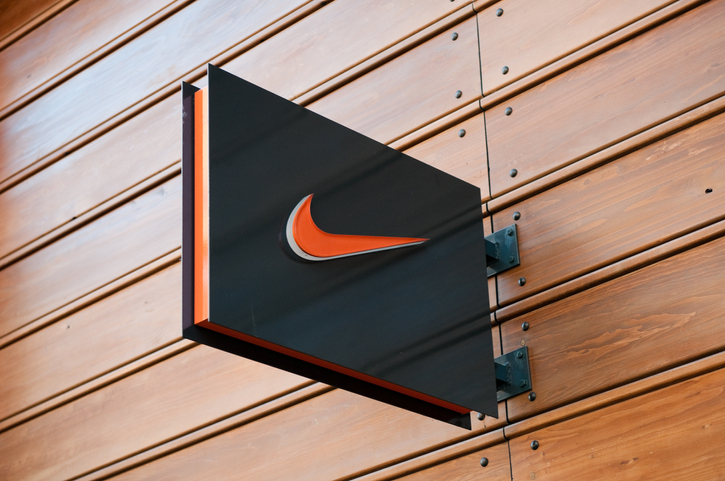 But suppose…
Now, imagine for a moment that instead of producing high-quality products, Nike produced shoddy, low-quality products that couldn't stand up to the intense pressure placed on them by the athletes who wear them. And, imagine for another moment that, instead of being associated with athletes who dominate their respective sports, the company inexplicably instead chose to endorse underwhelming athletes who performed poorly in their respective disciplines.
If this were the case, the Nike logo, despite possessing the characteristics of great design, would become synonymous, not with victory, but with failure. It is certainly true that the beauty and simplicity of the Nike logo has helped the company achieve global brand visibility and distinguish itself from its competitors. However, we cannot, not even for a single moment, dismiss the impact that Nike's high-quality products, innovation and association with dominant athletes have had in helping the company achieve and maintain its impressive market position.
So, yes, the Nike logo is certainly special. No one, not even those with a personal or professional grudge against the company, can deny the overall beauty, simplicity, uniqueness or memorability of the Nike swoosh, or deny its ability to capture consumers' attention and focus their attention on the company's products.
But even though the Nike logo is special, it certainly isn't 'magical'. If Nike produced low-quality, forgettable products, not even the uniqueness and memorability of its visual brand could save the brand. That's because the Nike logo doesn't mystically mesmerize consumers against their will and compel them to happily take out their wallets and pay premium prices for low-quality shoes and apparel.
No. Customers dish out cash for Nike products not only because of the company's strikingly visual brand, but also because of its reputation as a company that takes pride in producing innovative products that people actually want to buy.
Companies seeking to build a strong brand that lasts for generations should take a leaf from the proverbial pages of Nike's book. Certainly, companies need to focus on developing aesthetically pleasing visual brands, but they also need to concentrate on other important factors such as product quality, innovation and reliability. Like Nike's swoosh, your logo, as impactful as it may be, possesses no magical powers to influence your customers to purchase your products, if those products are of low quality.
Having a spectacular visual brand is no substitute for having spectacular products or for delivering spectacular service. The best possible scenario for your brand is to have an impactful visual brand and innovative products and services that your customers will love.
Remember. There's nothing magical about the Nike logo. Nothing.
And now, if you'll excuse me, I'm off to lock my doors and hide under my bed. I think I see some torches in the distance.